20 and 22 Foot Pontoon Boats Available
Full Day Rental: 8 a.m. – 4 p.m.
Half Day Rental: 10 a.m. – 2 p.m. based on availability.
$75.00 deposit per boat.
Boats must be checked out before 12 p.m. or the deposit will be forfeited.
We do not offer half-day rentals between May 1st – Labor Day.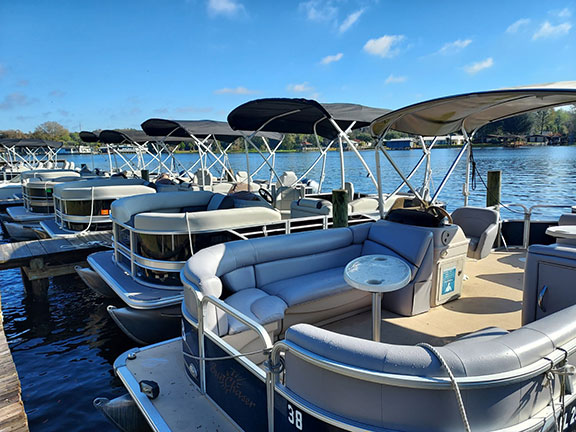 •All boat seat 10 people maximum
•All boats are full Coast Guard equipped
•AM/FM Radio
•Bimini top
Thursday – Sunday
Full Day
$30000
+TAX ($321.00)

Monday – Wednesday
½ Day
Full Day
$15000
+TAX ($160.50)
$22500
+TAX ($240.75)

Request Information
*Boats must be returned with a full tank of fuel. If you were born on or after Jan 1, 1988, a boating safety card is required. For more information, please visit www.boatus.org.
** Please be aware that boat rentals are subject to an 11 mile boundary North and South of Castaways on the River. View map of authorized areas.
Dog Friendly Policy
There are four boats designated dog friendly: #38, #99, #101, #103
One dog per boat.
Please contact us to reserve or if you have questions about our policy at 352.759.3422
Check-in policy
A credit card is required for all rentals and boats at time of check in