Watching Wildlife in the Ocala National Forest and Along the St. Johns River
Watching wildlife in the Ocala National Forest and along the St. Johns River is a panoramic view of nature. The area is home to a large variety of wildlife from birds to fish which draws visitors from all walks of life to get a closer look.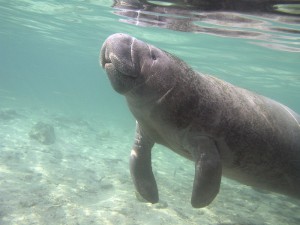 Whether visitors are on a casual outing or an enthusiast viewing a particular species, it won't take long for the show of wildlife to delight spectators. Few can say they saw a manatee, an alligator or a bear all in the same day. Oh my! In this area of Florida, it's just another day.
Manatee Watching on the St. John's River
While manatees are known as gentle giants, you have to be purposeful and patient to see them in their natural habitat. They are shy and will gracefully avoid boats, other vessels and noise in the wild. If you turn your boat motor off and sit for a bit, you may catch a quick glimpse as they surface for a fresh breath of air. A manatee won't come close to investigate so have your camera ready and stay quiet.

Wild Gators on the St. John's River Shores
Seeing alligators catching a little sun along the shoreline of the St. Johns River is commonplace. Remember this is their natural habitat so observe at a distance and be careful. Alligators are swift swimmers and prefer marshy areas or open water. The slow moving river flowing through the Ocala National Forest is ideal to see an alligator while enjoying a day of boating.
Watch out for Bears
While there are no lions or tigers in the region, there are bears in the wild. The black bear population is mostly concentrated in this region, hence the name of the scenic Florida Black Bear Highway. The 60-mile route is the best place to sight a bear in the area.
Birds on the Wild Side
We're not talking about snowbirds here. The Ocala National Forest is home to approximately 200 species of birds; especially a large concentration of American Eagles. The area is considered somewhat of a paradise for bird watching enthusiasts. If you are staying with us, be sure to meet the pelicans. Don't worry they won't let you ignore them for long along the dock, they keep a close eye on newcomers and old alike.
Watching out for Wildlife on the St. John's River
Largemouth Bass, Black Crappie and Blue Crab are plentiful in the region attracting both sport and casual anglers. Get advice from the veterans to learn the best spots to snag your catch. While all have their prime seasons, it's best to check ahead to see what's biting and where to plan your strategy for the day on the water.
Watching Wildlife – Entertainment at its Finest
Did you know there are several groups of wildlife comedians? Yes, they would be the squirrels who can be seen whizzing around in a rush everywhere and checking things out. And don't leave out the cute turtles peaking from their shells to see who is stopping by for a visit. These are cute pictures for sure to remember your trip.
Check with the Castaways On The River staff to learn the best spots to watch wildlife in the area. We'll be glad to accommodate your stay for a bird watching expedition or for those boating or fishing trips. Contact us via Facebook or Twitter, through our website or call us at (352) 759-3422.
blog comments powered by

Disqus