Storm season presents many challenges to Florida boaters. It's best to be aware and prepared for what may come rather than being caught by surprise without an action plan.
A saying in Florida is true, it's not if a storm is coming especially during the busy summer months, but rather when is it coming? Typically you can set your watch by Florida's predictable afternoon summer storms. If you are heading out to enjoy a fun day on the water or to get in a little fishing, there are a few tips to follow to ensure you know what to do during a storm when boating.
Make Your Boating Plans Known:
Make sure someone knows your boating plan for the day. Whether it's a family member not on the boat with you or the staff at the boat rental facility, inform others of where you are headed on the boat. In case a storm rolls in and you are unable to return, they will be able to notify authorities of where to search should you need assistance.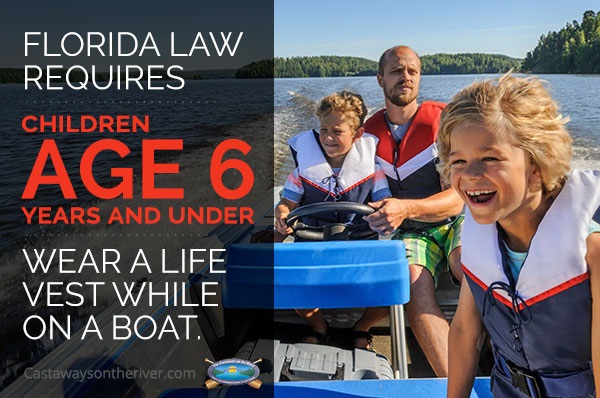 Wear Life Vest While Boating:
This next tip is common sense, but few take time to heed it until it's too late. Take a moment to put on a life vest or other personal flotation device (PFD). It simply can save your life if the weather turns bad and you are separated from the boat. And remember, it's the law in Florida that children age 6 years and younger must wear an approved life vest while the vessel is underway.
Check the guidelines for life vests, life jackets, or personal flotation devices. Note: inflatable personal flotation devices are prohibited.
Note: The National Safe Boating Council promotes National Safe Boating Week annually in May.
The Boat U.S. Foundation is a reference for free online boater safety courses. In order to rent at boat at Castaways On The River, anyone born on or after January 1, 1988 must have a boating safety card.
Check The Weather Before You Leave The Dock:
Be sure to check the weather for your planned boating day. A storm prediction may mean altering your plans a bit. Instead of going out in the afternoon, it may be best to boat in the morning and return to shore well ahead of the storm.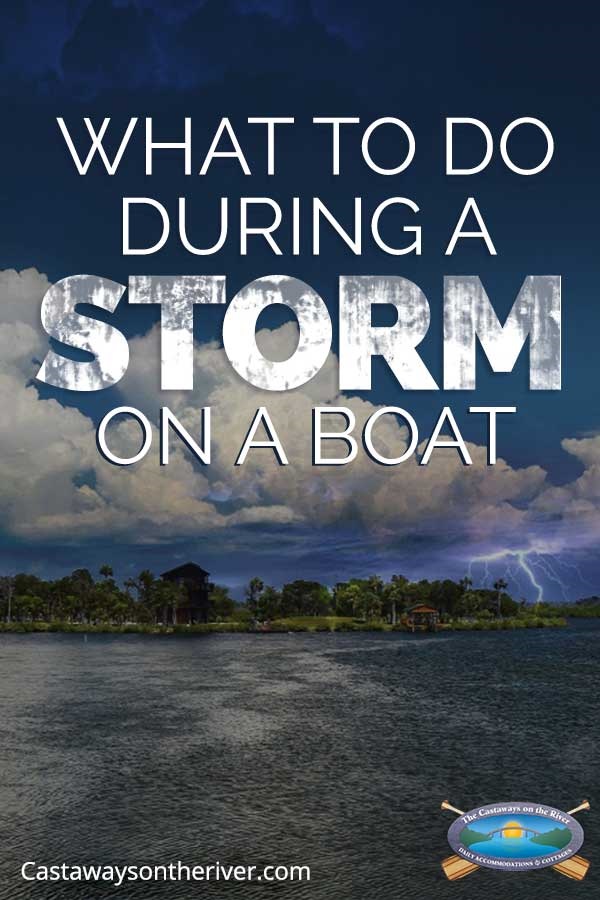 Be Prepared – Know What To Do On A Boat During a Storm:
It is not uncommon in Florida to have a fast moving storm approach without any warning. If you are caught out on the water, a survival kit of sorts may come in quite useful until you can make it back to shore. Include:
A secondary source of communication should the boat radio become disabled.
A backup power source is a good item to include in your kit.
Extra water and food to tide you over just in case.
Flashlights, a first aid kit.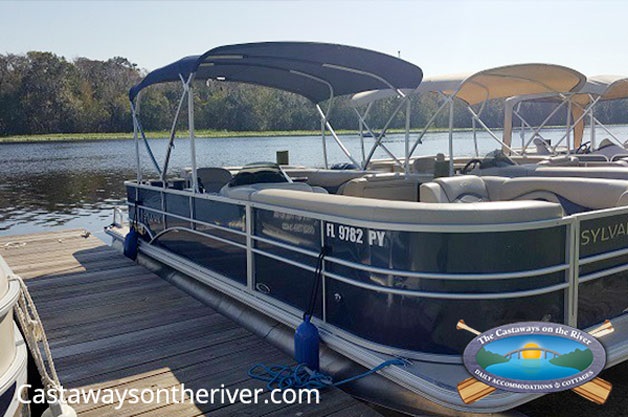 Take Down the Boat Top:
Usually the roll of storm clouds in Florida means lightning in most cases is not far behind. If your boat has a top, the high winds may make it dangerous to navigate and it becomes a target for lightning strikes. At the first rumble of thunder and increasing winds, it may be best to stop and take the boat top down. It may mean being wet as the rain falls, but it may make your return to shore safer.
Florida's tropical climate and warm water temperatures are the perfect ingredients for lightning strikes. The state has the nickname as the Lightning Capital of the U.S. So when you see storm clouds moving in your direction keep an ear out for thunder and prepare to get to safety. It's better to be cautious than to deal with the consequences of a lightning strike on open water.
Head to Shore Out Of The Storm:
Take a look around to see where you are when you realize a storm is approaching. Once you make the decision to head back, your return route may be altered to ensure the quickest and safest path. This is not the time to speed recklessly, you could cause unnecessary damage. During a storm, take your time and guide the boat safely back to shore.
Plan Your Boat Rental and Stay on the River
Spend the day boating along the St. Johns River from the dock at Castaways On the River here in Astor, Florida. We can help you with a checklist of Florida boating regulations, navigating what you need to know to rent a boat, and plan your stay with us. Call Castaways on the River today at (352) 759-3442 to book your boat rental and area travel plans today!