Enjoying lazy days in the sun and on the water is a great time to plan a perfect summer barbecue party. Family and friends will want to be included in all the fun, and of course the main attraction will be the food.
As for what is on the menu, it will depend on a variety of factors like who is doing the cooking, how many people are attending, and what time the food will be served? Will it be an all-day affair or have a designated timeline? Will food be served in shifts? Served at a specific time? These are questions you'll need to answer up front so your guests know what to expect.
It's best to have an idea early on of how large the gathering will be to determine how much food will be needed. This will help with the overall food shopping and delegating who can supply what item.
Before we get too far along, let's clear up a question that may be a matter of preference. Is it a barbecue or cookout? Technically the two can be considered the same in terms of events. There is no right or wrong menu item when it comes to chowing down. A barbecue just means cooking outside on the grill.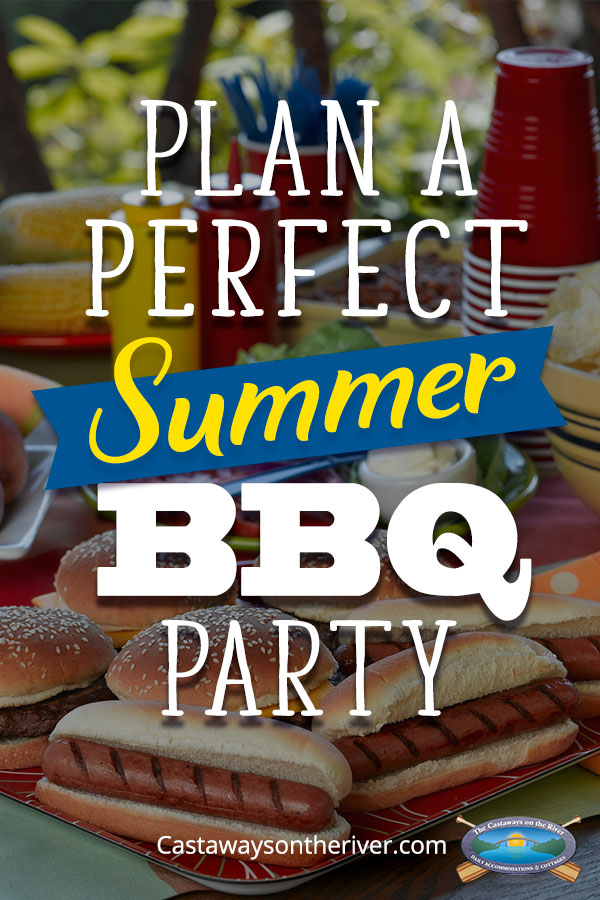 How to Plan A Perfect Summer Barbecue Party
So now that we've settled that, let's move on to figuring out the menu. The typical summer barbecue party menu includes burgers and hotdogs. Some gatherings may include more elaborate fare to enjoy such as the days' fresh catch from the St. Johns River.
The seasonal fishing calendar forecasts it's a good time to catch Bass, Bluegill, Redear, Specks, Stripers and Catfish. So anglers let's see what you add to the barbecue. When you return to the boat dock here at Castaways, use the convenient fish cleaning station to get everything ready for the grill just a few steps away.
And don't forget about all the great side dishes to go along with the main entrees from salads, beans, and other tasty treats and appetizers. Invite everyone to provide their favorite dish to help feed the masses. Get ready for recipe sharing or be prepared to protect the secret ingredient.
And since we are talking about summer time, get the ice cream churn out and put the popsicles on ice so everyone young and old can enjoy a variety of cool goodies.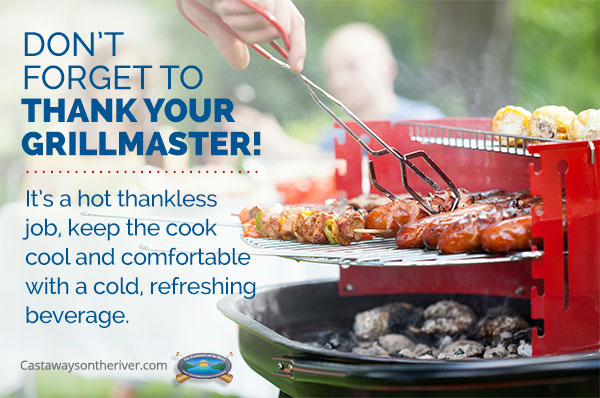 Barbecue Grill Duty
Before everyone digs in to enjoy the spread of food, make sure to thank the person who handled the grill duties. This is often a hard, hot and thankless job. Remember without someone on the grill, it's just eating out. Tips to show your thanks is to make sure the grill master has a cold, refreshing beverage close by to enjoy. It's likely to already be hot, then add to that the heat and smoke from the grill. Keep the cook cool and comfortable.
It's also a good idea to designate helpers for the grill master so they can play close attention to the food and not have to worry about carrying it to the serving area. They may need other tools and supplies so extra pairs of hands are often appreciated.
Plan Ahead
Consider creating a list of all the items needed to pull off the perfect summer barbecue party. It's always the little things like forgetting a special condiment that can derail a good plan. If you are heading to a remote area, it may be difficult to run to the nearest supermarket or big box retailer to pick up a few items. So pack what you'll need ahead of time to ensure everything arrives at the barbecue.
Also who is bringing the plates, cutlery, napkins, drinks, ice etc.? Yes those are all the things that round out your barbecue that need to go on the plan ahead list.
It may also be wise to have a backup plan in case of rain on the day of the barbecue. A quick rain shower or rolling thunderstorms is a daily occurrence in Florida during the summer months. Check the local weather report to see when rain is forecast. The information can help if you need to change the start or end time of the barbecue. You'll also want to keep a close eye on the clouds if those attending the barbecue go out on a boat.
Barbecue Party Accessories
Bring a few board games for all to enjoy or a deck of cards to see who has the best hand. This is where the fun begins with plenty of laughter and great memories are made. Pose for a selfie or two to capture the moment.
Board games also come in handy while waiting for the weather to clear up outdoors.
And what's a party without some good tunes on the speaker? Designate a DJ to make sure the music is playing and everyone gets to hear a favorite song. Create a play list to get the party started. Dancing is a good way to work off a few of those calories you enjoyed from the grill.
Don't forget to plan for everyone to enjoy time in the sun or get out on the water. All that fun is sure to work up hearty appetites which will be ready to feast on a barbecue spread.
Let us know how we can help you plan a perfect summer barbecue party here at Castaways.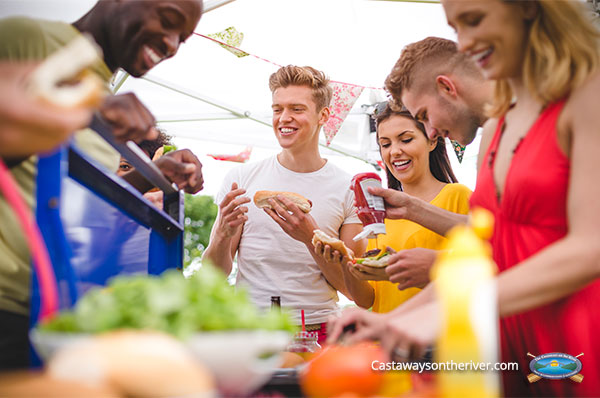 Plan Your Party Along the St. Johns River
Castaways On The River in Astor, Florida has space, outfitted with grills, to plan the perfect summer barbecue party. The resort has rental cottages and motel rooms to accommodate guests. Also inquire about our fleet of rental boats to get out on the St. Johns River to fish and to enjoy nature at area attractions like nearby freshwater springs. Castaways is nestled on the eastern edge of the Ocala National Forest, located between Ocala and Ormond Beach along State Road 40. Call Castaways On The River at (352) 759-3442 to book a rental boat, reserve rooms and to arrange additional plans.